Step 1: Input Access Codes
Go to

Settings > Integrations

in Assembled

Click

Integration directory

Find UJET in the list, and click

Add

In the dropdown, input the following:

UJET Company Key

UJET Secret Code

UJET Subdomain

Click

Connect With UJET
Note: It can take up to 24 hours for agents in Assembled to sync with their UJET profiles. In the interim, you may see a placeholder for the agents within the Realtime view which says "Please connect agent profile".

It may be the case that, after 24 hours, this message continues to appear for some -- but not all -- of the rows in the UJET section of the Realtime view. This indicates certain agents within your UJET are not in Assembled.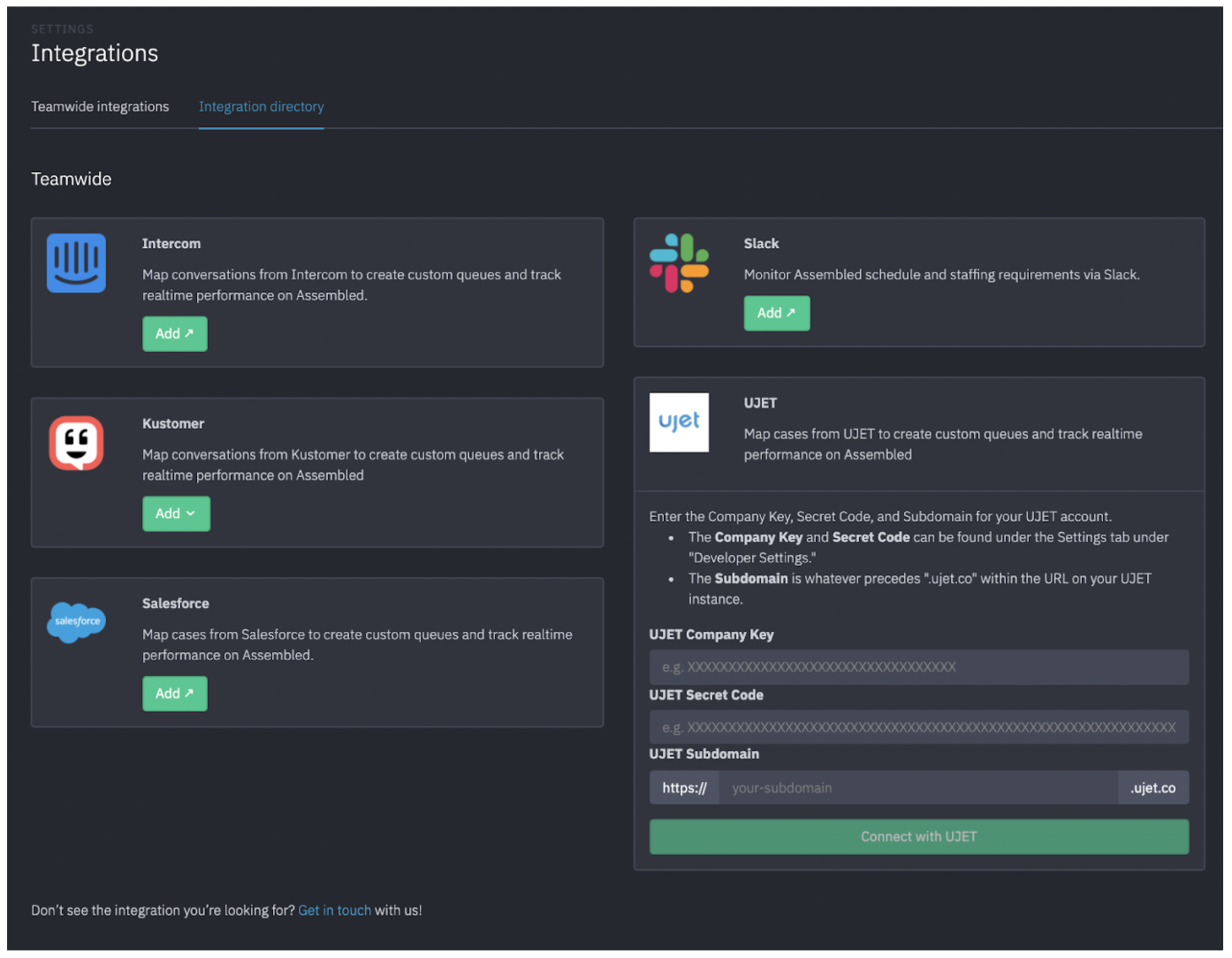 OPTIONAL: To exclude UJET tickets from other primary CRM platforms that are connected to Assembled in order to avoid duplication of tickets in Assembled, take the following step as well:
Step 2: Ticket exclusion
Go to

Settings > Queues

in Assembled

Click

+ Add Ticket Exclusion

(blue button towards bottom right)

Choose your

Platform

that you would like to exclude tickets from (typically the phone/talk platform that is being integrated with UJET)
Keyword Type

is the common identifying property of all tickets that would be included in the group you are excluding (example: if all tickets come into the same Phone Number, or have the same Call Group ID)
Choose

Match Method

, and fill in your customer

Keyword

or identifier

Click

Save ticket exclusion