Choosing a forecast model is a vital part in getting the most out of Assembled's Forecasting feature. This article will walk through how to analyze forecast data to find your best fit model.
Understanding forecast types
Assembled offers three forecast model types: N-week average, N-week average with momentum, and Seasonal. Detailed information about these forecast models and their use cases is in the Forecast models article. If there is a model you would like to add to your account, please reach out to our Support team to get it added.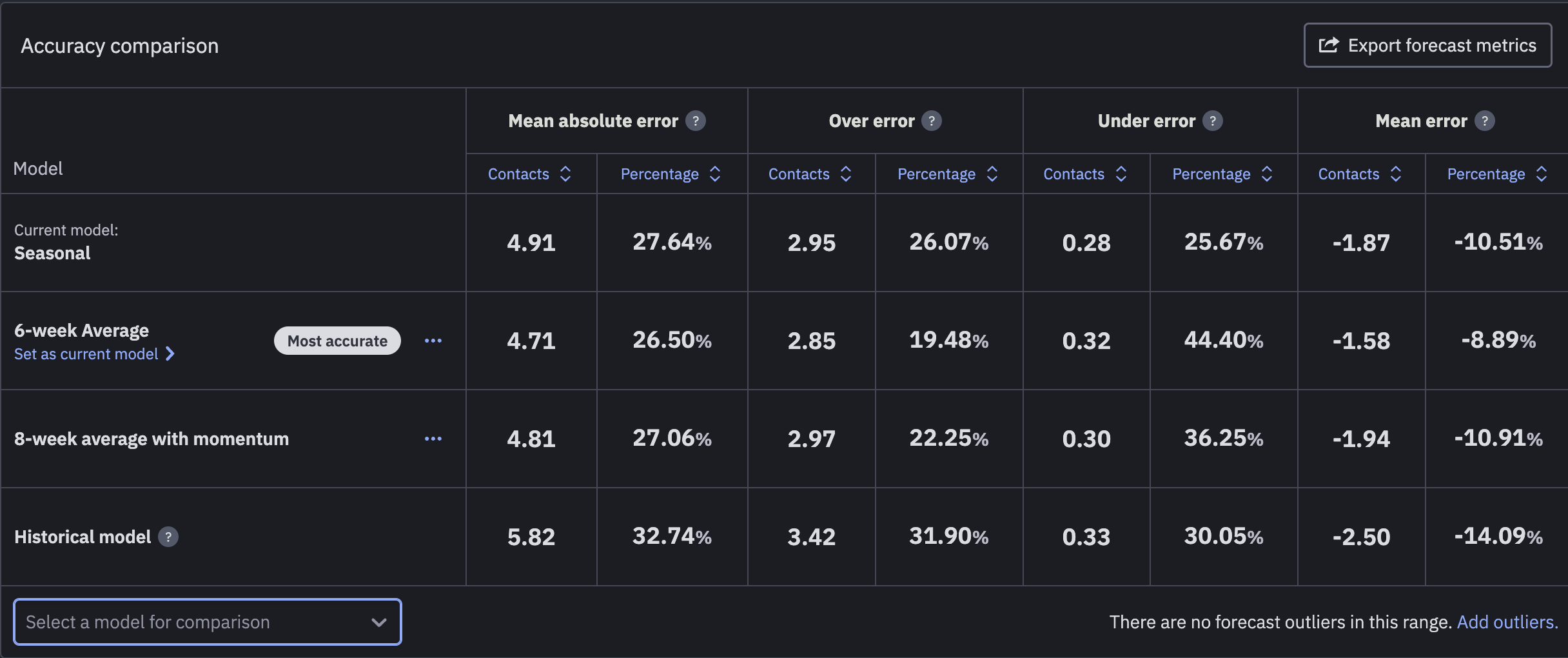 There are pros and cons to each model which makes each one more or less suited to your contact data. If you are unsure which one to use, our Forecast management report can help guide you. We offer statistics to help measure how close our forecast is to your historical contact data.
Using the Forecast management report
Assembled offers four stats for you to understand how the forecast model compares to your actual data: Mean absolute error, Over error, Under error, and Mean error.

Mean absolute error - the average of the absolute difference between the forecast and actual values

Because this is an absolute value it will always be positive. This metric is helpful to see on average how far off the forecast is without considering if under or over
We base our most accurate suggestion on this metric

Over error - difference between forecast and actual when forecast is more than actuals

This metric will tell you how far over actuals the forecast is

Under error - difference between forecast and actual when forecast is less than actuals

This tells you how far under actuals the forecast is

Mean error - average difference between forecast and actual

This can be negative or positive
If negative, then on average the forecast is below actuals
If positive, then on average the forecast is over actuals
Assembles best fit recommendation is based on the Mean absolute error since it calculates how close to your actuals the forecast is. Depending on your needs you may find the other metrics to be more helpful for determining your best forecast. You may want the forecast to predict more than your actuals so you are staffing above predicted contact volume. Because of this, you'll want a forecast with a small Over error and positive Mean error.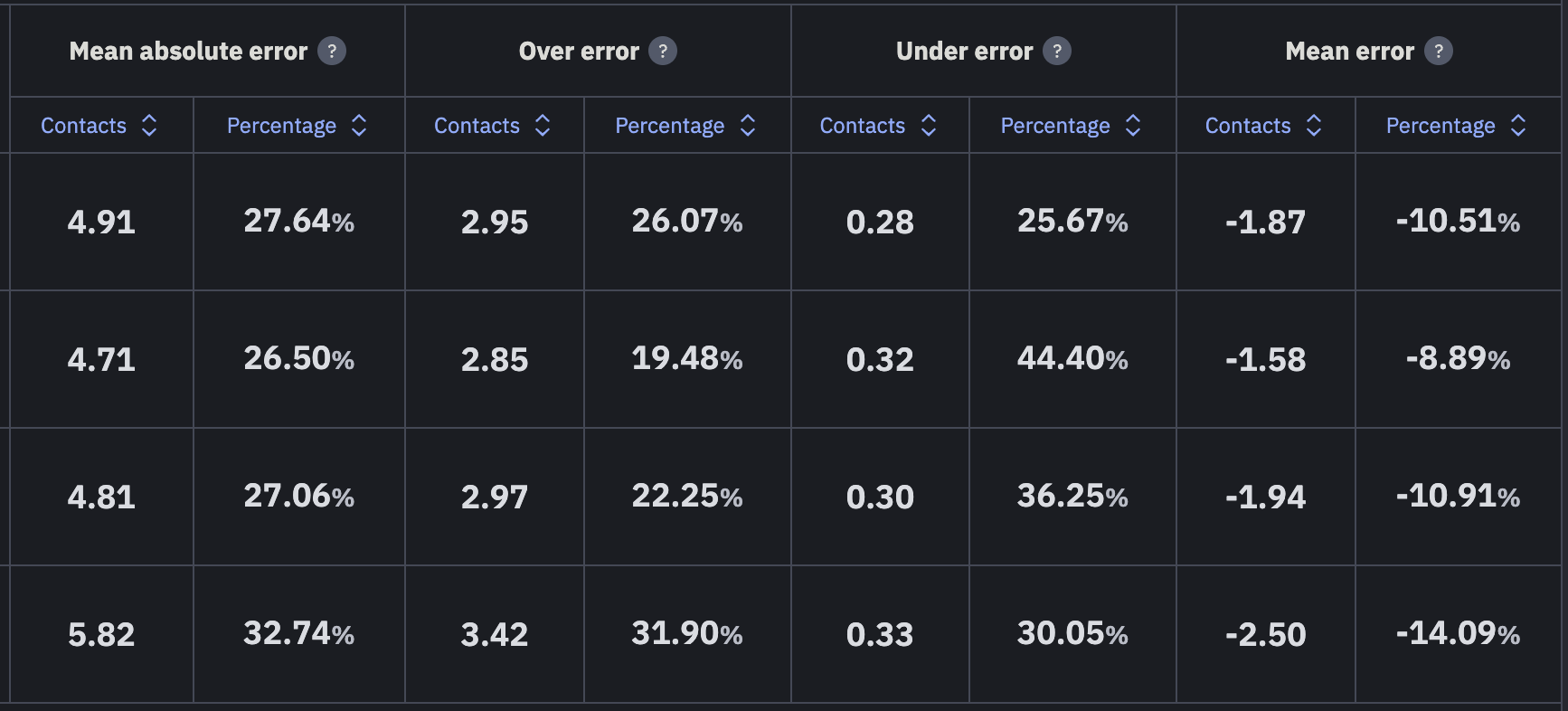 You can compare the stats of other models to each other in this report as well. In the bottom left of the table, additional models can be added with the "Select model for comparison" dropdown. Forecasts are added to the line graph as well for a visual comparison. This way you can make sure you are picking the best fit.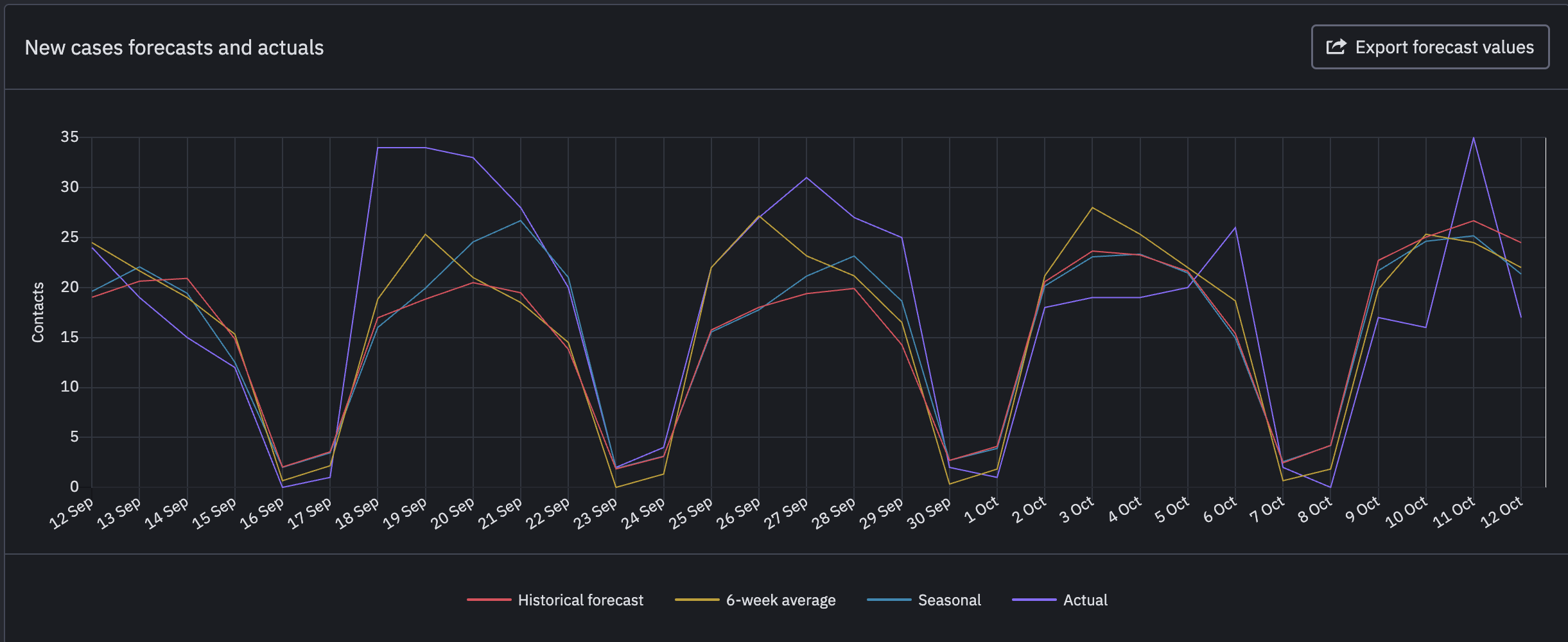 Promoting a model
Once you have found the forecast that fits your needs best, it can be promoted to the current model to be used on the Staffing timeline and for Required staffing calculations. Click the 3-dot menu next to the forecast name and select "Set as current model".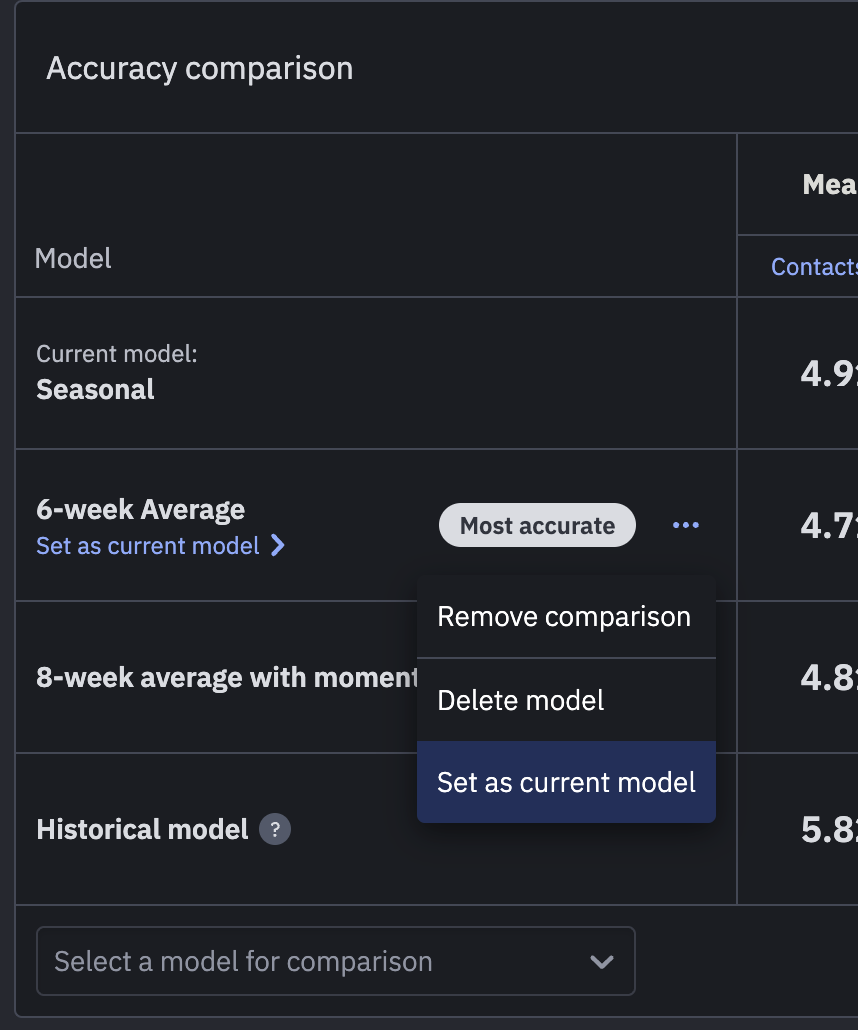 As you business and team grows, it's important that your forecast grows with you. The Forecast management report can also be used to make sure your current model is performing well with your contact data, or if it needs to be changed to a different model. If you had a busy month and want to make sure your forecast can handle that growth, this report can be used to monitor how the forecast responds to changes.
If you have any further questions on this, feel free to reach out to our Support team.