You can manage your team's time off requests made from within Assembled in multiple ways. See Requesting time off requests for instructions on how to make the time off request.
1) Receive notifications for time off requests and cancellations
As a manager or admin, you will receive an email notification whenever a user requests or cancels time off** if:
You have clicked the box next to Enable time off notifications in the Notifications section of Settings>My account :

The user requesting time off has selected your name in the Send to section of the time off settings. Note: you will only appear in the dropdown list if you do not have time off notifications enabled.

**In both cases, you will only receive a notification of cancelling if the request has already been approved. If the requester cancels the request before it has gotten approved then you will not receive a notification.
Within this email, you will find details to help you action the request:
The name of the requester

The date or time range of the request

The type of time off

A reason for the request (if entered by the requester)

Additional information that will help you make a decision [0]
Both you and the time off requester are included on the email notification, so feel free to correspond on the request with your teammate directly on the email thread.
2) Make an approval or denial decision
When you're ready to make a decision, click through either the Approve or Deny link in the original email and you will be sent to the time off request within Assembled to finalize your response.
If you Approve a request, you and your teammate will receive a confirmation email and your teammate's Assembled calendar will automatically reflect the accepted request.
If you choose to Deny a request, you can also include a denial reason. Your teammate and you will receive an email detailing the reason for the denial.
3) Manage other outstanding requests
If at any time you'd like to view all outstanding time off requests, you can view them from the Staffing > Time off requests page :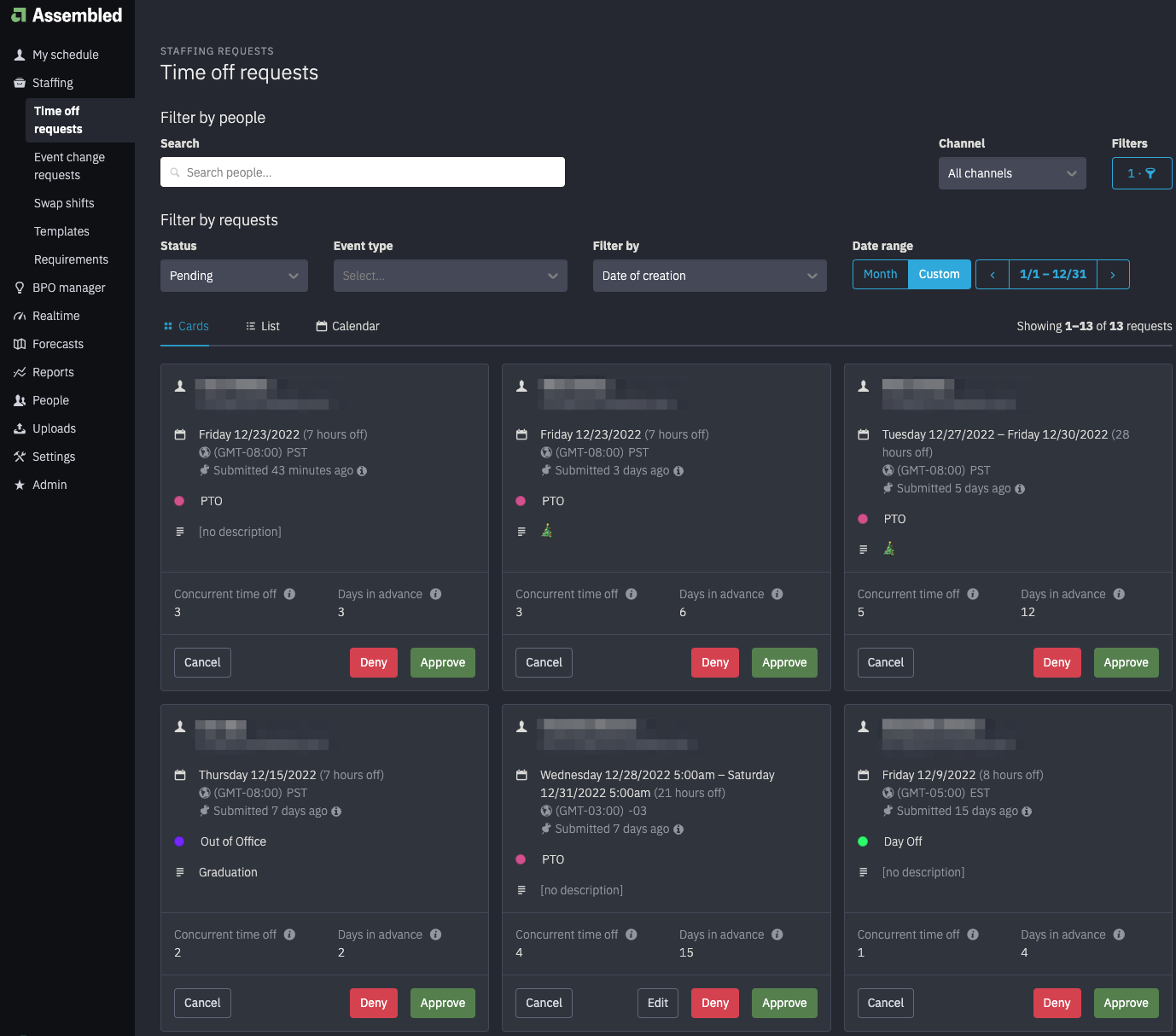 From this page you'll have the option to filter these requests :
By Channel, Queue, Site, Team and skill by clicking on the Filters icon.
By Status - whether the request is pending, approved, denied or canceled.
Event type - the time off event type.
Date of time off or Date of creation.
You can also choose to view the time off requests in different formats :
Cards view (default) - this will display each time off request as its own separate card.
List view - this will display all the time off requests as a list.
Calendar view - this will display all the time off requests on a calendar.
Feel free to reach out to support@assembled.com if you have any suggestions for us.