This feature is a part of Assembled's Pro and Enterprise plan. Please see our Plans page for additional details about our Assembled plans and associated features, and please contact the Assembled team at support@assembled.com if you're interested in using this!
Overview
Emails, unlike forms of live communication with your customers, tend to have longer SLA, or service-level agreement, for first response times. This means that you don't necessarily have to have a sufficient number of agents scheduled at any given time to immediately respond to email. Furthermore, the response time SLA is only applicable during business hours. So if your business hours don't include weekends for example, but customers are still emailing over the weekend, you could still hit your SLA but you would have to ensure that you have a sufficient number of agents scheduled on Monday to burn down the backlog.
Forecasting Email SLA
If Forecasting is included in your Assembled package you should have access to this feature. However, if you do not see any of the features mentioned in this article, please reach out to your CSM or support@assembledhq.com.
How it works
Assembled considers a few parameters when computing email response time SLAs:
Service level %
Target Response Time
Email Productivity
Business hours
These are configurable in the Configure panel on the Staffing Timeline, you just need to make sure that you've selected Email as the channel.
As of May 10, 2022 business hours are still managed by your Assembled CSM or support. If you're not sure if those are configured properly, please contact your CSM or support@assembledhq.com.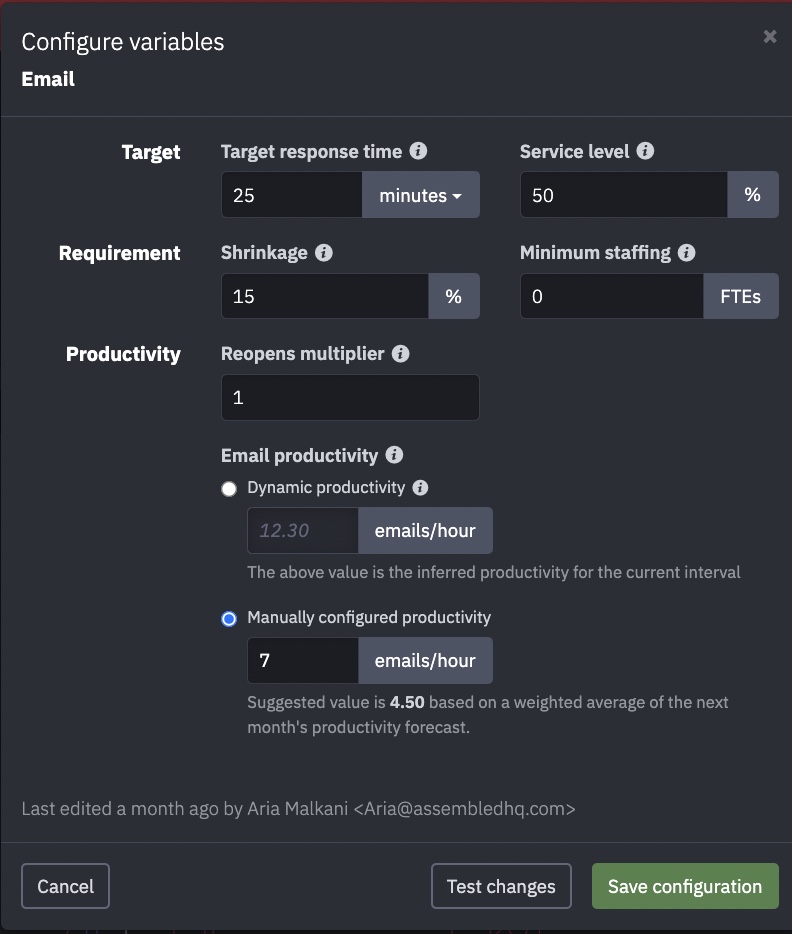 Using this information and historical email contact volume, Assembled forecasts email volume and applies the necessary logic to predict SLA attainment.
Visualizing your backlog & scenario analysis
You can also visualize your past email volume as well as the forecasted volume. On the Staffing Timeline simply select Backlog Volume.

The volume showing Needs first response (SLA breached) shows you how many email will have breached SLA. By adjusting the parameters listed previously or scheduling more agents you can see the backlog adjust in real time allowing you to do some scenario planning to ensure that you are sufficiently staffed to not only meet your SLA but also keep your backlog down.