IMPORTANT: This article cover the second version of Assembled's queue configuration module which replaces the first version and is targeted to be fully rolled out by end of summer 2022. For more information about the previous version, please visit this page.
Summary: What's New
We've introduced a few key improvements:
We display the count of tickets that match a certain queue for a selected time range. This makes it very easy to understand which queues may be mis-configured
When editing a queue you can quickly "audit" the tickets that match the rules you've configured to understand why a ticket may or may not show up in a given queue
You can inspect the specific ticket details to make sure the ticket that you're searching for matches your expectations
Queue Configuration Overview
Ticket Mapping allows you to separate inbound conversations in Assembled and also entirely exclude certain tickets from the Assembled platform. Once Ticket Mapping is set up, you have the ability to forecast and staff differently on separate queues.
Examples of queues you can set up:
If you receive marketing questions that must be answered by specialized marketing agents, you can set up a marketing queue to separate marketing questions from generic questions. You can then forecast and staff specifically for your marketing specialists.

If your team receives VIP questions and these questions require a faster SLA than general questions, you can create a queue called "VIP" that is linked to these specific VIP questions. Assembled can then forecast volume and generate headcount requirements that will enable you to meet your strict SLA.
How to create a new Queue
Navigate to Settings > Queues

Click "Add new queue" in the top right corner

Give you queue a name

Select your contact platform

Enter your match method information

Set priority

Save
Platform
The platform dropdown will only display contact platforms that you have integrated with Assembled. You can read more about integrating your contact platforms here.
Match method
We currently support four matching methods:
is exactly

starts with

contains

matches the pattern: Matches the pattern provided and supports wildcards.
Keyword type
This determines how we map a conversation or ticket to a specific queue. Depending on the integration you're using we typically match on what inbox the conversation was assigned to (Assignee ID, Assigned Team, Group ID) or if the conversation had a specific tag (Ticket Tag, Tag).
Here are the keyword types we match on for specific platform integrations:
Intercom: Assignee ID, Ticket Tag

Kustomer: Channel, Tag (tag_id), Assigned Team

Zendesk: Group ID, Ticket Tag, Ticket Form ID, Phone number
If you've integrated Zendesk, Kustomer, or Intercom with us, you can select the keywords directly from Assembled: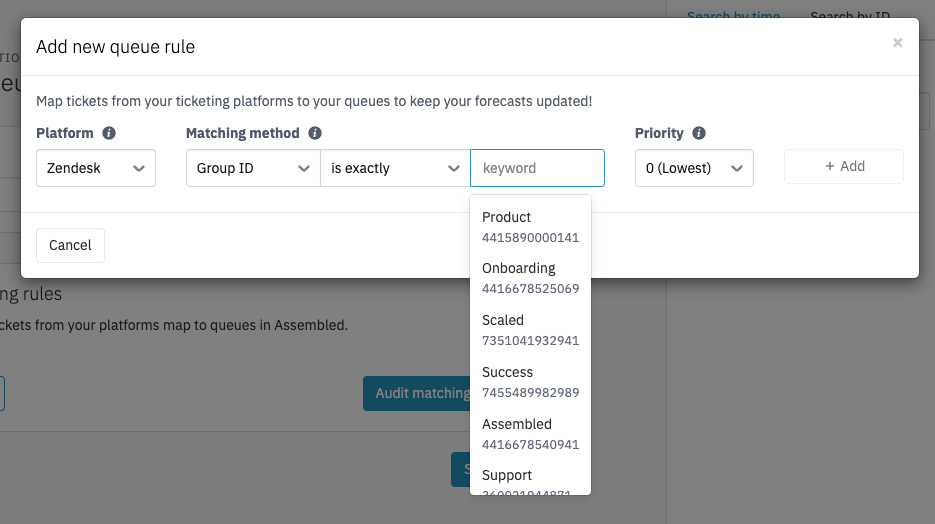 Priorities
Mappings with higher priorities are applied first. For example, if you have one mapping with a 1 and another with 0, the mapping with 1 would be a higher priority.
Verifying your configuration (aka. auditing your queues)
Your queues are foundational to how Assembled works. A incorrect configuration (either on the queue or ticket exclusions) will cause data issues downstream.
The first thing to look for are the number of tickets that are coming in to a certain queue. You can do this by:
Selecting a time range in the top left hand corner
At a glance seeing how many tickets are coming in for each queue
Inspecting the specific tickets that have shown up in that queue in the select time range by click Edit > Audit matching tickets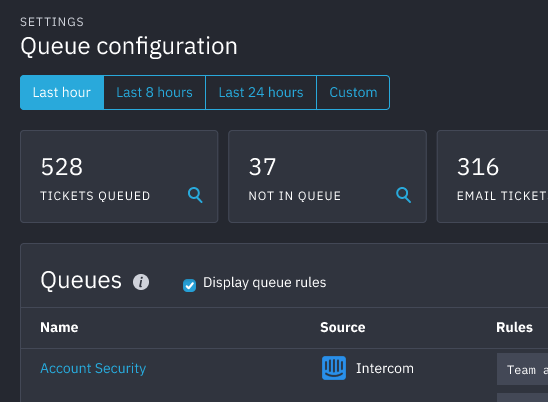 Select a time range

Click Edit to inspect the queue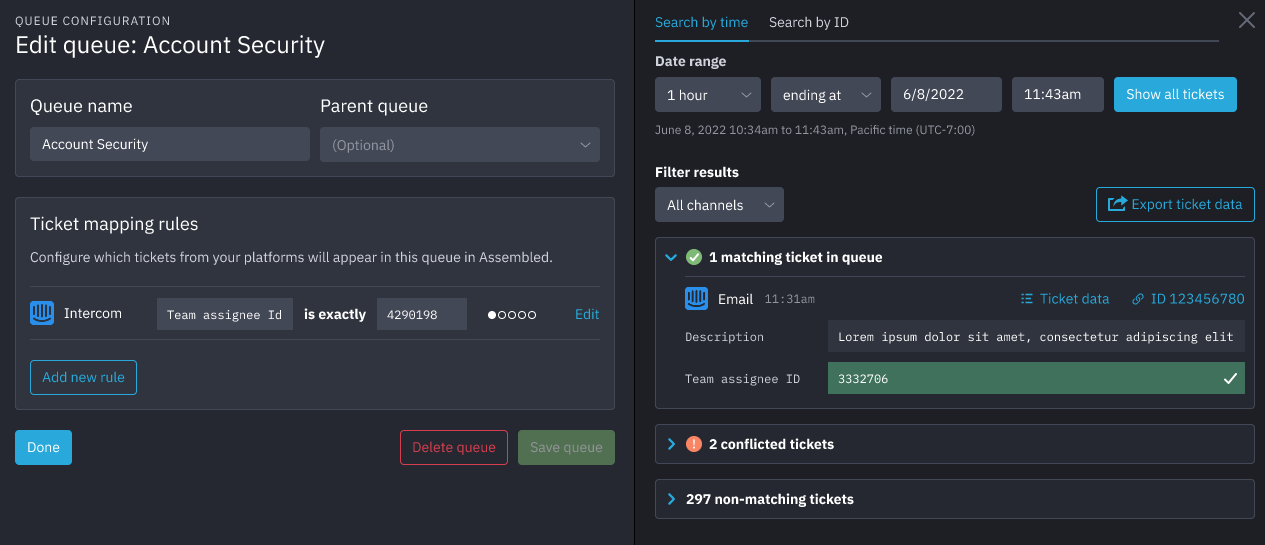 Click Audit matching tickets to see which tickets are mapped to that queue
Interpreting the ticket auditing results:
If a ticket that you're expecting isn't showing up anywhere, it's likely being excluded by an exclusion rule.
Matching tickets in queue: Tickets that are successfully matching the queue and will show up in that queue throughout the Assembled platform.
Conflicted tickets: Tickets that do match the queue configuration rules but also match another queue rule for a higher priority queue.
Non-matching tickets: Tickets that Assembled is receiving but don't match the queue.
What do you do if you don't see a ticket you know should be there?
First check the time range to make sure you're looking at the right data
Check your exclusion rules
Check your connected user's access rights to the relevant platform. This is more typically an issue with Salesforce in the event that you've connected an integration user to Assembled at that user doesn't have full visibility into all the fields to Cases.
Excluding tickets from Assembled
Using the "exclude ticket" feature will allow you to leave out specific groups of tickets from Assembled and the forecast. This is good for marketing inbounds for example or bot tickets. This feature can be found at the bottom of the Queues page.
Note:
If you're using "is not" for the match method we only suggest using one exclusion rule.

In the case where no default queue is set, the tickets or conversations will just flow into no queue. In this case, if you searched Channel: 'Email' you'd still see the ticket.

Ticket Mapping can be changed at any time. If you do make a change please let our team know so we can rerun your forecast.