The Agent scorecard report gives you insight into each agent's overall performance and access to daily historical data. You can view an agent's scheduled events, compared to their statuses from connected platforms, and track adherence over time.
Understanding agent states
Agent states are defined as the current state that an agent is in at any given time. They are automatically pulled from your integrated contact platform when integrating with Assembled. In Assembled, you can map these agent states to user-created events to determine if an agent is in or out of adherence. If you haven't set up your agent states yet, check out this article!
We recommend setting up your agent states before using the Agent Scorecard report, as it is one of the key metrics that we use on the Agent Scorecard.
Getting to the Agent Scorecard report
We provide you with a few ways to access the Agent Scorecard report:
Clicking on the dropdown next to the agent's name provides you with an option to View Agent Scorecard

Clicking on the agent's name in the Realtime dashboard


Alternatively, you can navigate to the report by clicking on Reports > Agent Scorecard.

NOTE: This is a manager only report.
Metrics used in the Agent Scorecard report
The Agent Scorecard report uses these metrics to gauge your agent's overall performance:
Productive Adherence
Cases Solved
Handle Time (specifically for Phone & Chat channels) OR Utilization (E-mail channels only)
Scheduled hours
QA metrics (only if you have a MaestroQA integration)
We split the report into two halves, the first containing adherence, cases solved, handle time (or utilization) and QA metrics displayed as charts, while the other half is solely focused on your agent's schedule and overall adherence.
For more details about each metric, please visit the List of Metrics and Definitions page.
Interpreting the Agent Scorecard report
General reporting functionality
Filters work as expected throughout the entire platform, so you'll also be able to filter down to specific channels + queues based on your business case.
Overall performance metrics
In the first half of the report, you'll see 3 (or 4, including QA) panels depending on your integration. If you'd like to integrate your QA platform with Assembled, click here.
These metrics can be viewed on a weekly, monthly or user-defined date interval. For all date intervals less than 28 days, we split up the data daily, and for all date intervals more than 28 days, we aggregate them as weekly averages.
Monthly view

Weekly view

Productive Adherence

This chart represents the average productive adherence score for your agent based on the time interval specified in the setting above.
Productive adherence is a percentage metric, so we display the average percentage for each week (e.g every 7 days from the 1st) at the top right-hand corner of the chart. For a daily view, we display the actual productive adherence score for that particular day - as shown in the screenshot above.
Clicking on each bar will also highlight the same interval on other charts, allowing you to cross-reference other metrics across the same date range.
Clicking on each bar will also display the agent's productive adherence for that entire week in the panel below. More information about the second panel can be found below.

Cases Solved

This metric reflects the number of tickets solved by the agent throughout the entire date range.

Handle Time (or Utilization)

This metric reflects the average time an agent took to resolve a phone call or a chat conversation and is generally calculated as the total time elapsed between the first message to the last message (or the entire duration of the phone call)
Utilization is calculated as the total number of scheduled productive hours over the total number of scheduled hours for the agent.
Average handle time is a very complicated metric for e-mail tickets, and as such, it is replaced by utilization which would be more insightful for agents working on e-mail tickets.

QA Score

This metric reflects the QA data retrieved from your QA integration with Assembled. For more information, click here.
On these charts, we also provide you with the option to set thresholds for your metrics. To do so, click on Threshold in the top left-hand corner of the page, and you'll be able to configure 1 (or 2) thresholds for your metrics.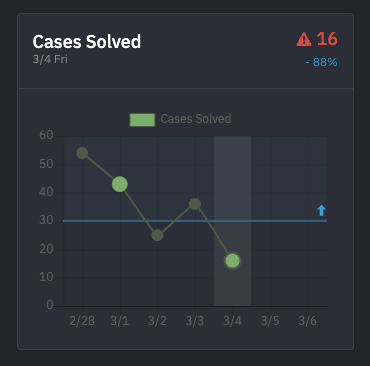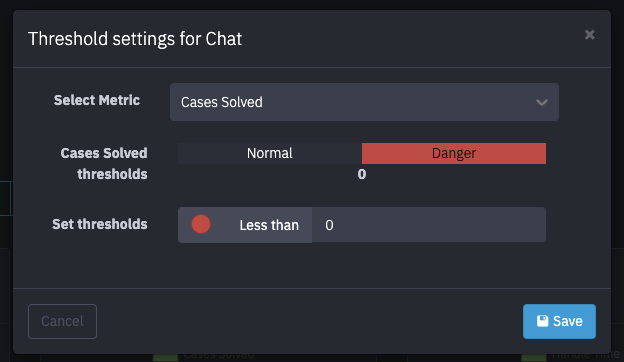 You can configure thresholds based on channel + queue combinations. Do note that only managers and admins are able to configure these thresholds, and once they are set, are viewable to anyone on the account.
Created thresholds will then show a blue line on the chart, with an arrow pointing up to indicate the threshold to aim for. The metric at the top right-hand corner of the chart will also change to red if the current metric falls below the threshold.
To remove a threshold, you only need to change the value of the threshold you've set to 0.
Agent Adherence Timeline
The Agent Adherence Timeline is aimed at allowing you to have more insight into your agent's scheduled hours, as well as their adherence on a daily/weekly basis.
The key metrics here are scheduled hours, and adherence:
Scheduled hours

The number of hours here includes both unproductive and productive events
All other events unmapped to agent states

are denoted as a black box between events.

Productive adherence

This is automatically calculated based on the total number of time spent in expected agent states over the total number of productive hours

The coloured blocks indicate the events that the agent was scheduled for, and you can also see a summary of an agent's overall scheduled hours, broken down for each event.
To see the exact agent states that your agent was in during their shift, you can click on the arrow to the left of the date on the left side of the page.
Clicking on each individual agent state will also show more information on the state that the agent was in, such as the total time spent in that state, and ticket data (if available).

There are two main views in this panel, and you can switch between "Out of Adherence" view and the "In adherence" view.
Out of Adherence Timeline


Only out of adherence events are highlighted below the schedule in red, while all other in adherence events are greyed out.

In Adherence Timeline



Only in adherence events are highlighted as green, while all the other out of adherence events are greyed out.
Adherence is calculated on a per-second basis, so that is why you might encounter certain agent states which only last for a few seconds.
Zooming into the Adherence Timeline
As some agents might move in between states quickly, we've implemented the ability to zoom into the particular hour, viewing 3 hours at most.
To zoom in, click on the particular hour.
To zoom out, click on the first or the last hour.
You can also zoom into other events while zoomed in.
Exporting agent states
We also have the ability to export the agent states into a CSV report. More information about how to and how to understand the export is in this article.
Frequently Asked Questions (FAQ)
Why are there blank spaces in the adherence timeline?

Blank spaces in the adherence row mean that the event was non-productive, in which case we do not calculate schedule adherence.
If there isn't an agent state for that time a blank space will show on the report. Some contact platforms have an explicit state for this like "offline", while others don't, causing the blank state.

What if I have multiple contact platforms? Will I see data from all sources?

If you have multiple contact platforms, you'll see multiple contact platforms as multiple rows. An agent would be in adherence as long as the agent state and event combination passes for at least one of the platforms.