Overview
When running a high performing support organization, it's important to measure agents and teams against the right and accurate metrics. Furthermore, especially if live channels constitutes one of your primary support channels, it's important to ensure that the teams are following their schedules in order to ensure that you hit your SLA and offer your customers the best experience possible.
To that end, Assembled supports automatic and manual time tracking for agents in Zendesk and uses that data to surface insights about agents and teams in the Team Performance, Agent Scorecard, Realtime and other reports.
How It Works
Once set up, Assembled automatically tracks what agents are working on in Zendesk and uses this information to display the status, derived metrics and whether or not the agent is adhering to their schedule in various reports.
Realtime
In the Realtime dashboard the status will appear for each agent on Zendesk and whether or not that status is in adherence with their schedule.

Team Performance
In the Team performance report you will have access to new metrics:
Adherence
Hours in adherence
Cases solved per actual hour
Actual hours worked
Utilization
Total hours worked
Furthermore, if you have manual tracking enabled, you will also have access to the following metrics:
Non-productive hours worked
Conformance
Agent Scorecard
When inspecting individual agents in the Agent scorecard, the user's state will show up in the timeline and also be used to compute adherence metrics over time.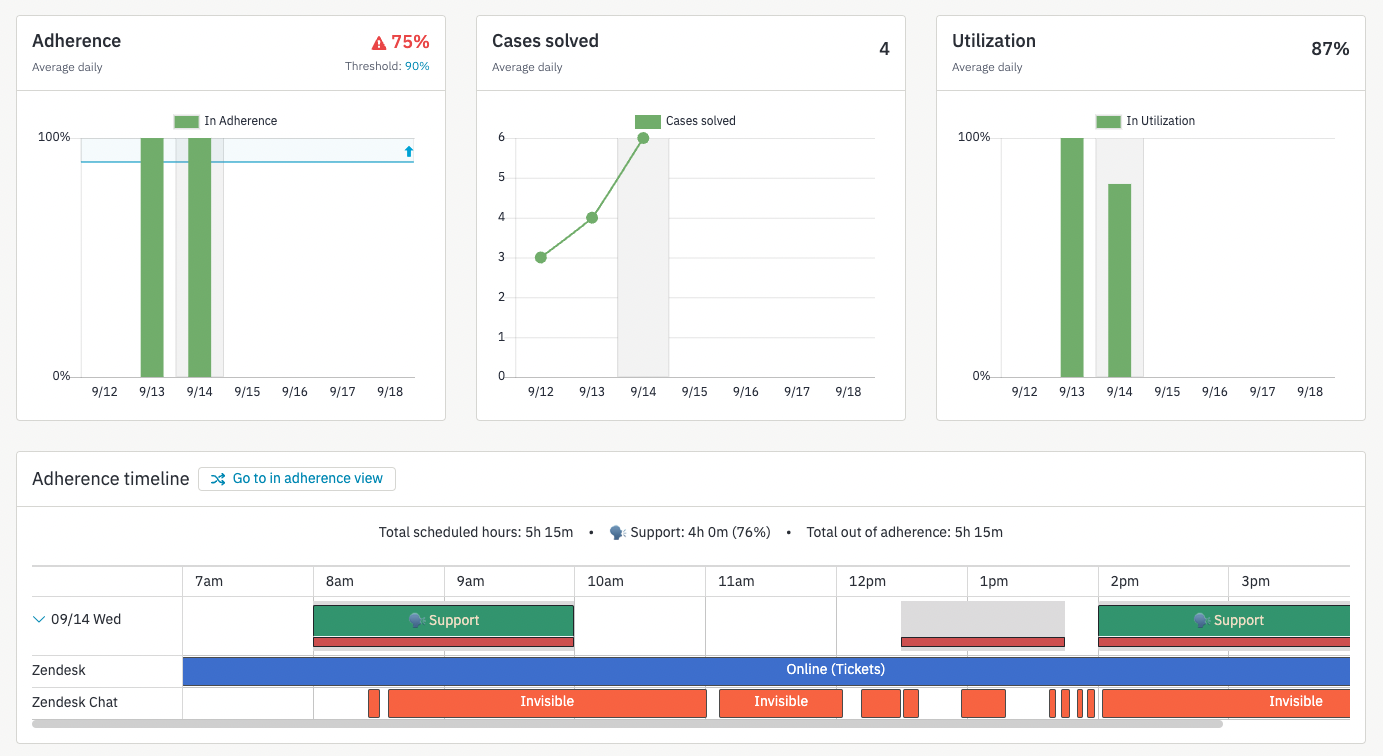 Setting It Up
Initial Configuration
To start tracking agent statuses in Zendesk, follow these steps:
Ask your agents to install the Assembled Zendesk application from the Zendesk marketplace
In the Assembled application, under Settings > Integrations > Assembled App for Zendesk select "I'VE COMPLETED THE INSTALLATION OF THE APP" and "USE THE APP FOR ACCURATE ADHERENCE CALCULATIONS"
Configure the Zendesk states to map to the proper schedule events (more here)

Advanced Configuration
You have additional, advanced configuration options at your disposal by contacting your Customer Success Manager or support@assembledhq.com.
Track work outside of Zendesk against ticket work: Automatically track Zendesk ticket work even when the agent is not in Zendesk. When this option is enabled, if agents navigate to different browsers tabs to complete tickets (eg. they need to access an internal tool or dashboard), that time continues to be tracked as work time for that ticket.
Manually override statuses: If you would like agents to explicitly select their status this option provides the agents with a list of the available Events configured in Assembled for them to pick from. If no status is selected Assembled just uses the Zendesk status, but if the agent selects a status, Assembled will use that status for the duration of the event until the agent ends the tracking for that event.
If agents manually track certain statuses, certain additional metrics listed above will be available in Assembled.